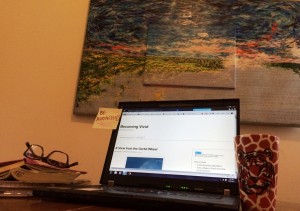 Who am I drawn to as a person, as a reader*? The Dreamers. The Thinkers. The Makers. The Awkward. The Stylish. The Damned. The Struggling. The Vulnerable. The Irreverent. The Funny. The Driven. The Fearful. The Brave. The Unconventional. People in whom these seemingly disparate characteristics overlap and create tension. Above all though- I am interested in people who try, who are trying. People that are going for something- anything. People who push.
If you lined up all my exes you would not see a row of tall blondes. No. It would be more like a meeting at the United Nations- a beautiful rainbow. Basically, I don't have a physical "type." And I guess I have been around the block. (I married late and enjoyed the single life- what can I say?) Judge me if you must but this experience has taught me a few things about the company I like to keep. As different as a lot of my exes are, there are some distinct commonalities among those that mattered. They didn't necessarily take a conventional path and they all really push themselves.
Some would say my past relationships were failures because they didn't "work out," because we didn't stay together forever. I disagree- none of them were failures. Or maybe they were- and that is okay because the time I spent in their presence was worthwhile. In the very least, I learned about the type of people that draw me in. (And that helped me in eventually finding my husband.) I like people who are willing to try and fail, or fail and then try again in their own way. People who can let go of the past and reinvent themselves- even when doing so is hard. I like people who push.
I attended a small, feminist liberal arts college. One woman put a large sign outside her dorm room, it said: "become the person you want to f*ck." It is stellar advice actually.
That thing you want to attract to yourself- that person you are looking for to fill your void, that ideal reader, that new boyfriend or girlfriend- you know the one with passion and drive and a sense of humor who also cooks; well- how about creating all of those things within yourself and then see what happens?
Becoming Vivid is about pushing out of the comfort zone. It is not about becoming merely "happy." Happy can be fabulous; however, happy can also be overly comfortable and complacent. Becoming "vivid" is about working towards your shine-y bright potential- even when it hurts.
Maybe you are getting over a divorce. Maybe you are trying to become a better writer. Maybe you are trying to figure out how to capitalize on your wackadoodle personality so that you can work from home and alternate doing so either in pajamas while drinking coffee or naked with a glass of champagne. Whatever it is- you are in the struggle. As am I. Maybe we will make each other laugh or sigh in recognition. Maybe we will help each other to keep pushing.
And so, dear reader (and you are so very dear), if you decide to spend some time in my presence, whether for a brief fling or a long lasting affair- I am not going to focus my energy on whether or not you love me. No, I will not waste our time together fearing that kind of failure. Instead I will push to be my most vivid self whether or not you love me, and hopefully that will make all the difference.
xoxoxo
*This post was inspired by a Blogging 101 assignment asking us to define our ideal reader.